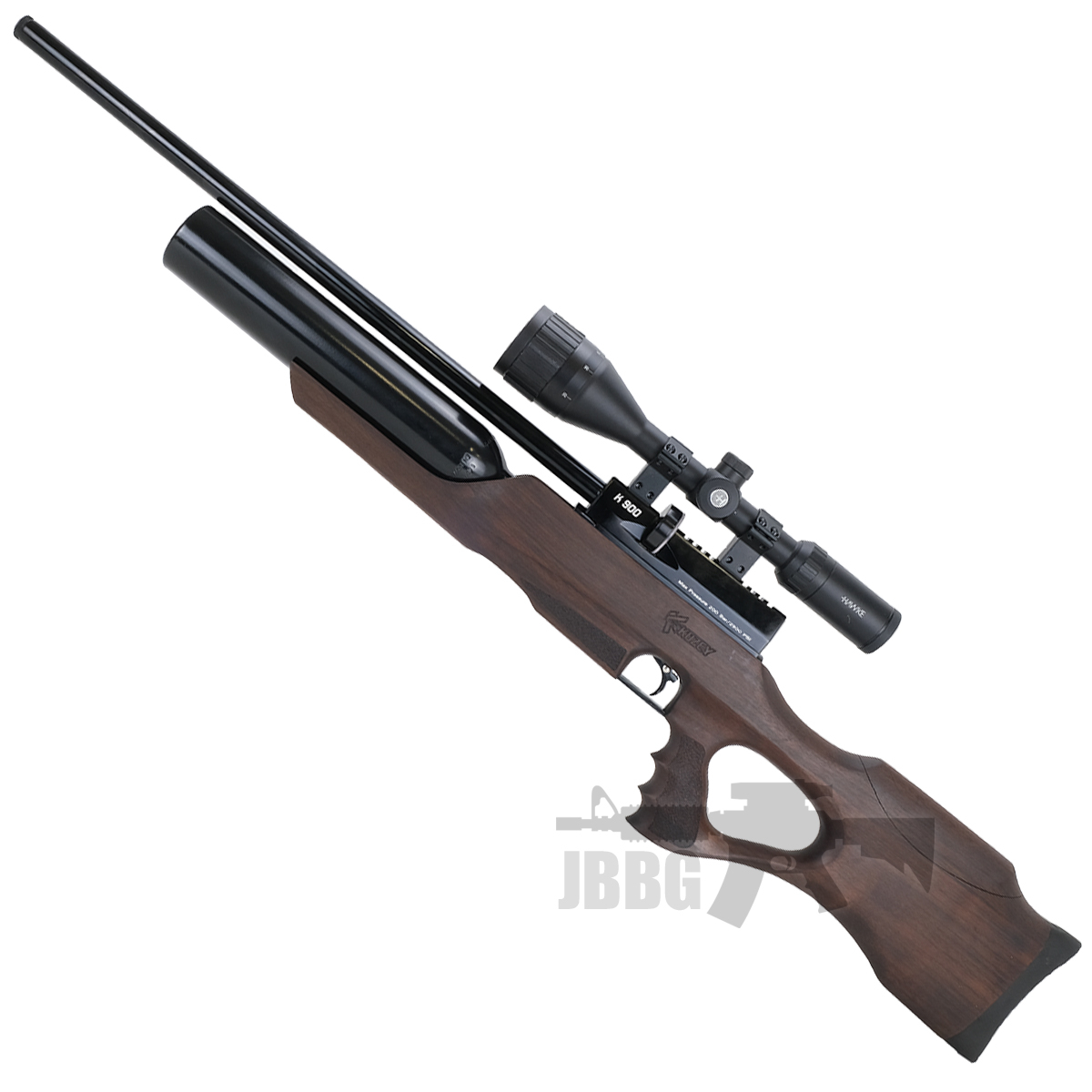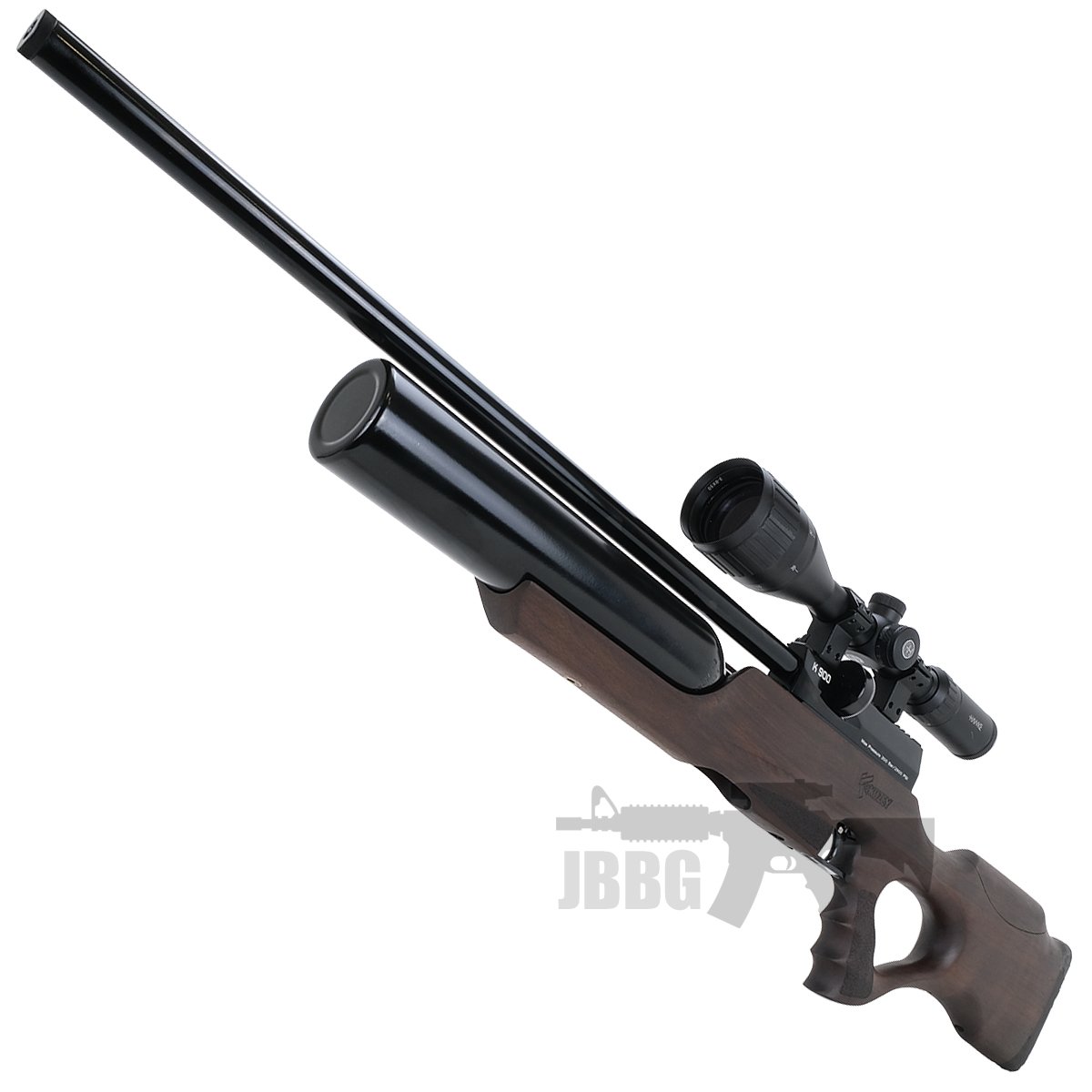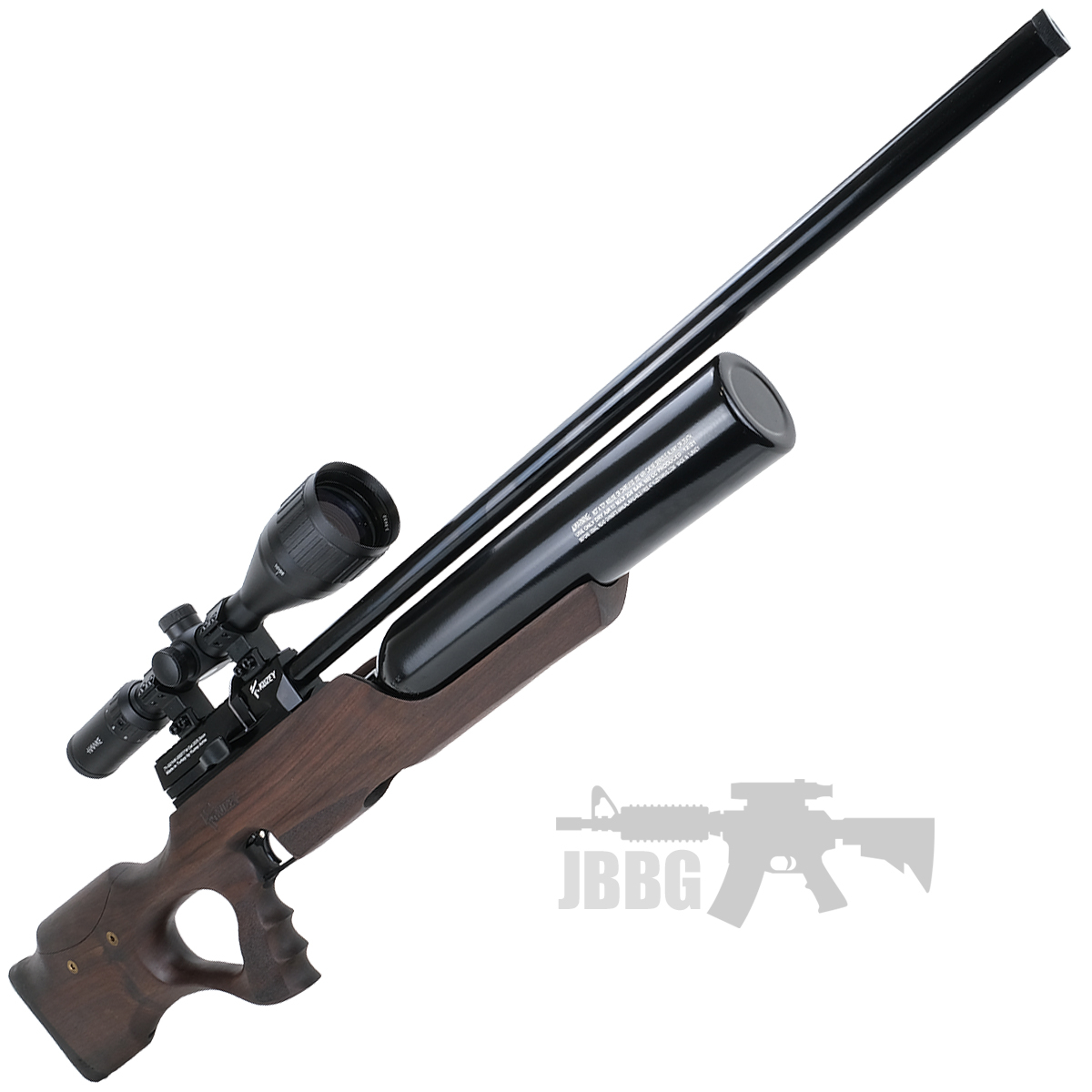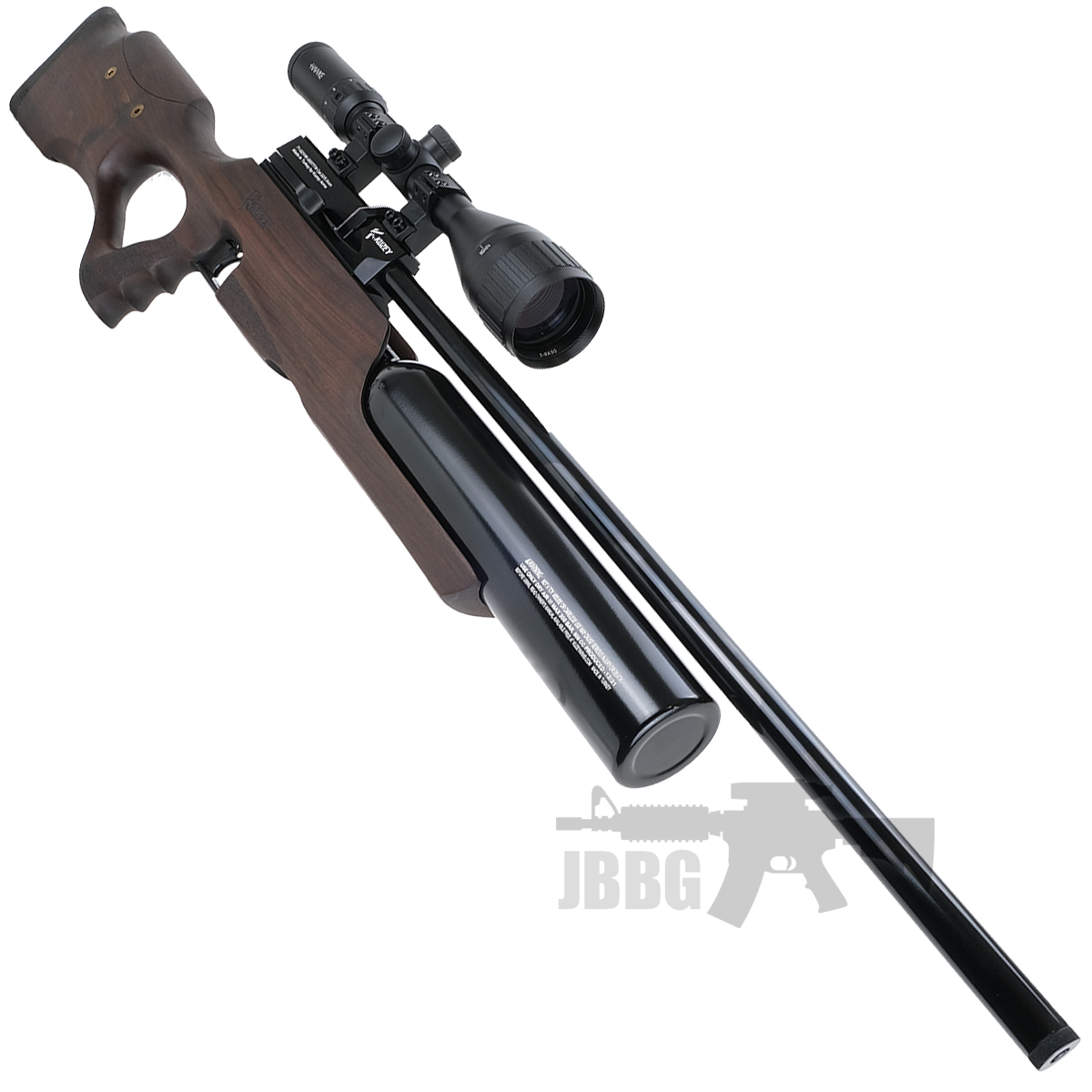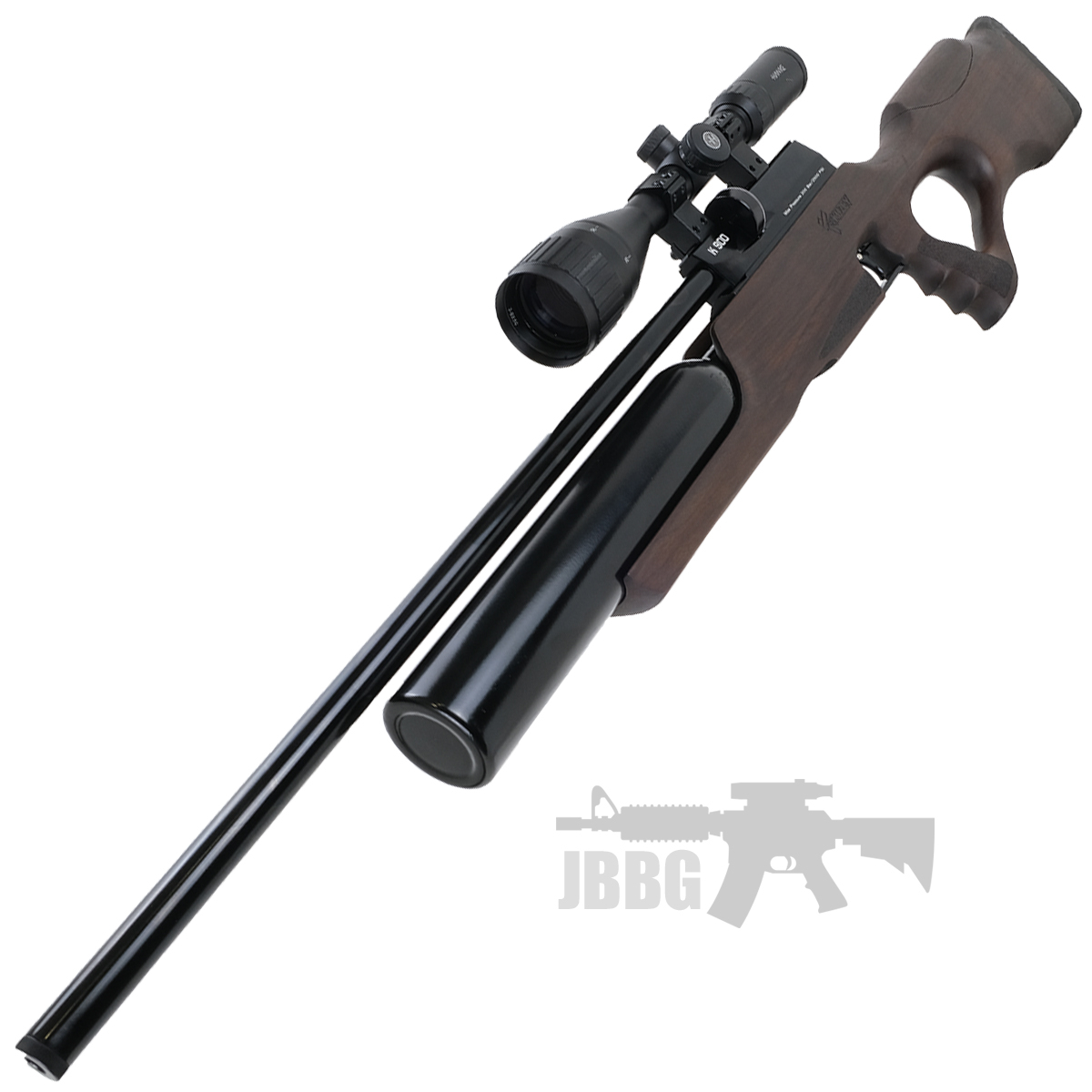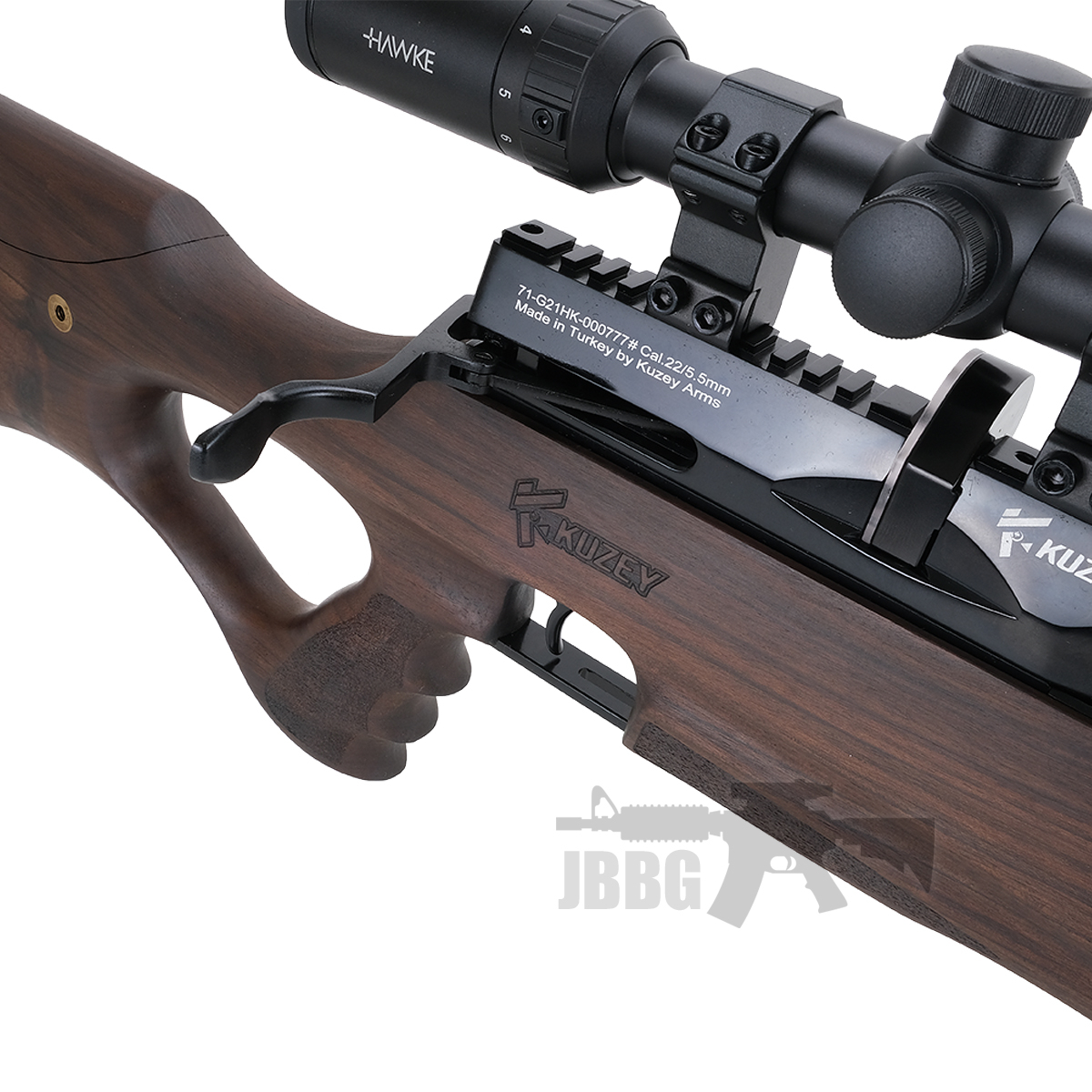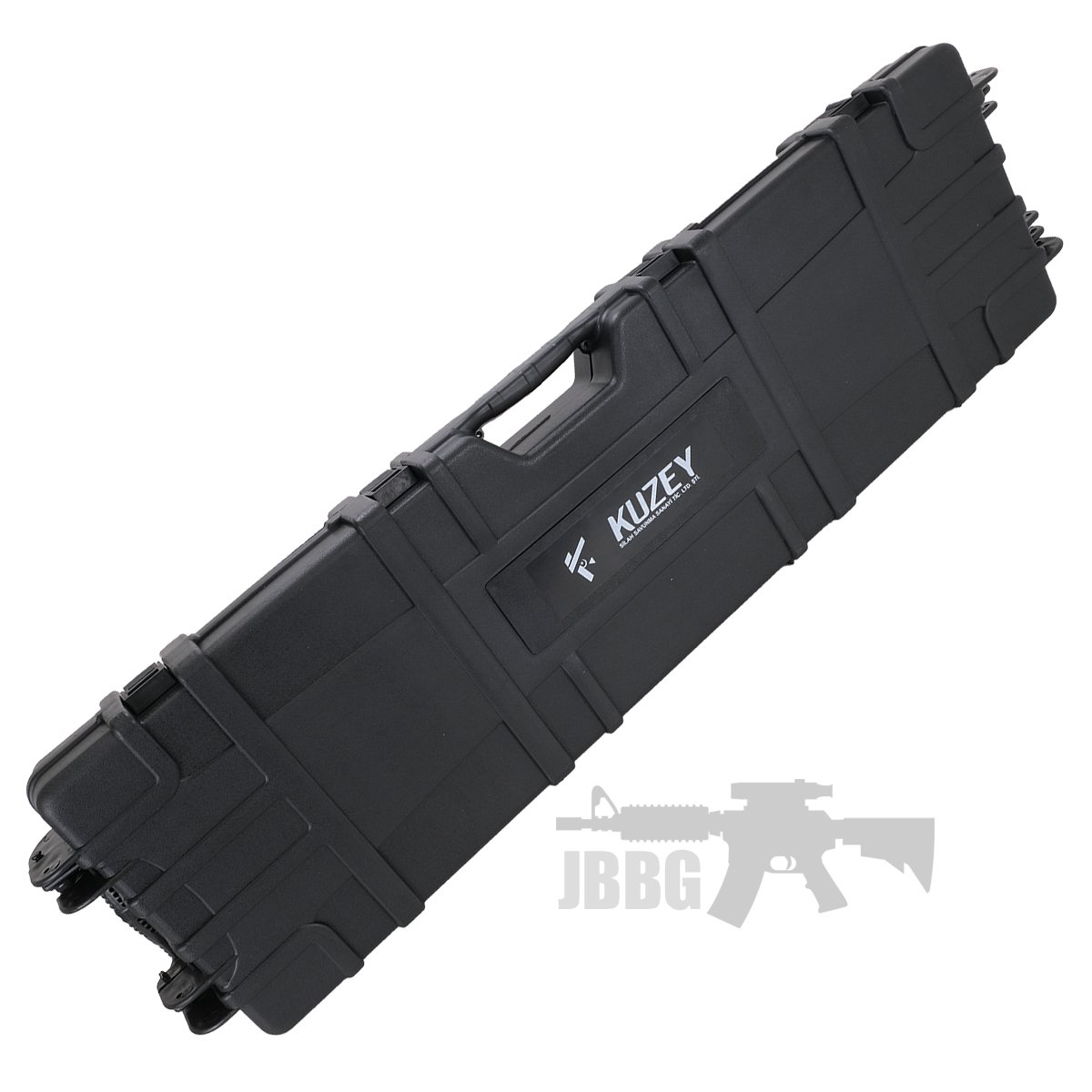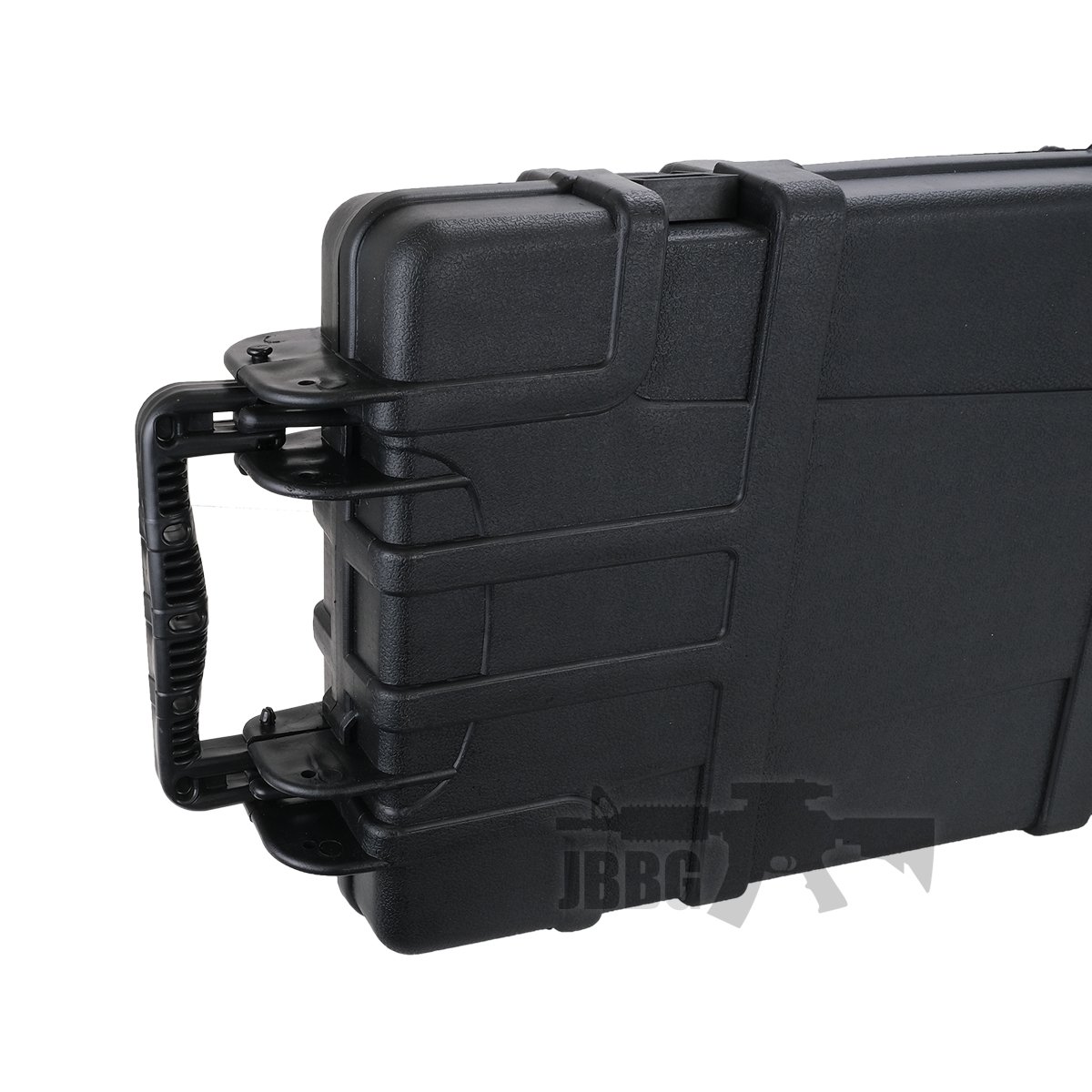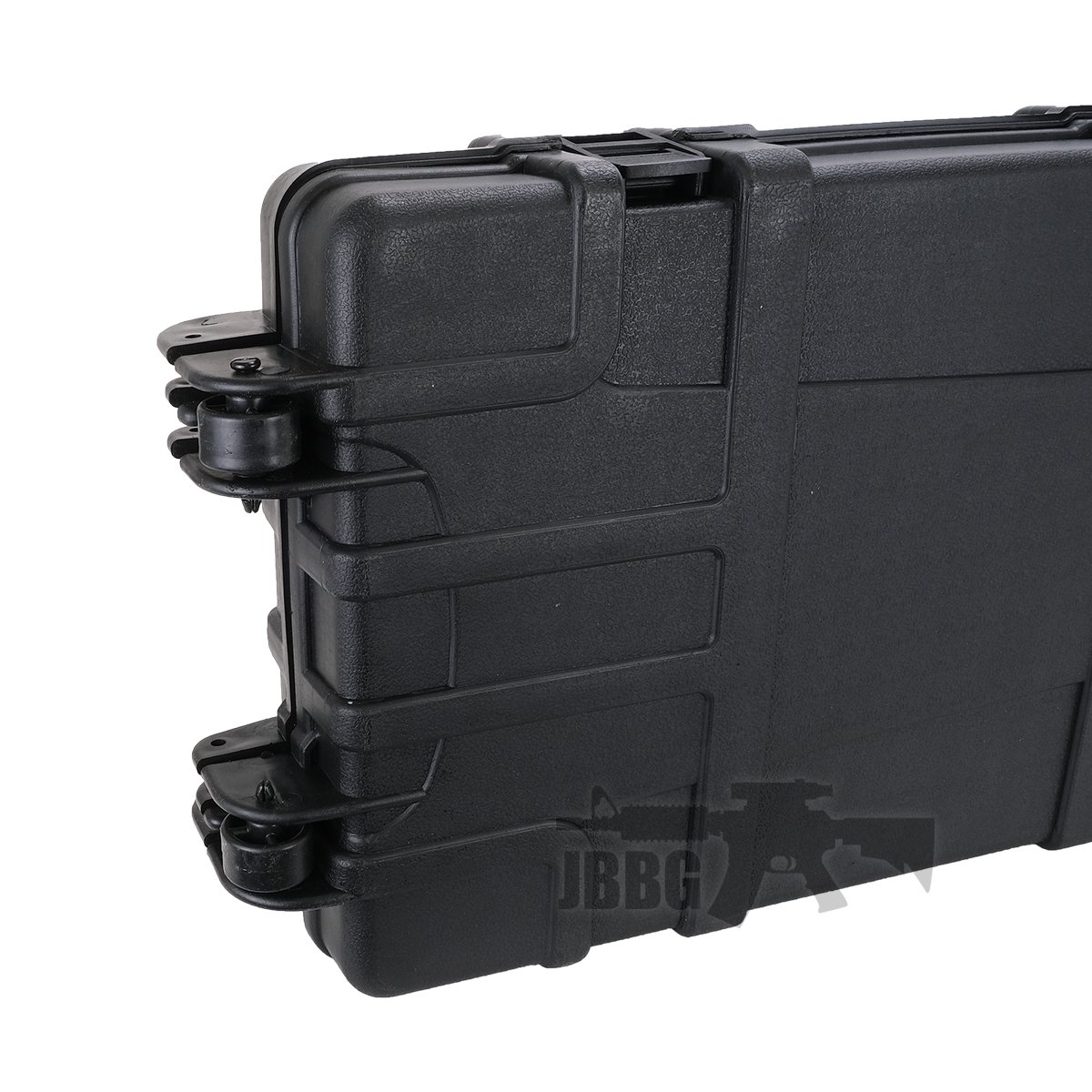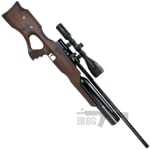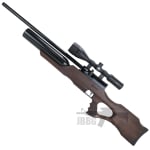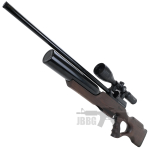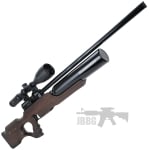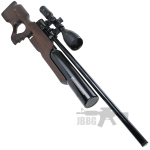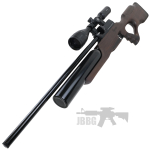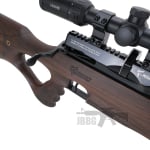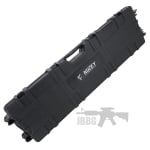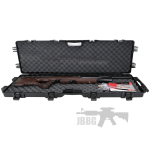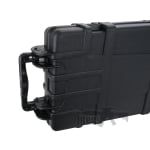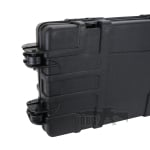 Kuzey K900 PCP Air Rifle Dark Walnut Stock .177
£569.99
This is the Kuzey K900 PCP air rifle with a quality walnut stock, FREE hard case and 2 rotary magazines.
Please note that the scope and mounts are sold separately, please see recommended Hawke Optics listed on this website.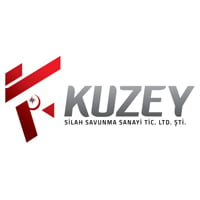 CUSTOMERS WHO BOUGHT THIS ITEM ALSO BOUGHT: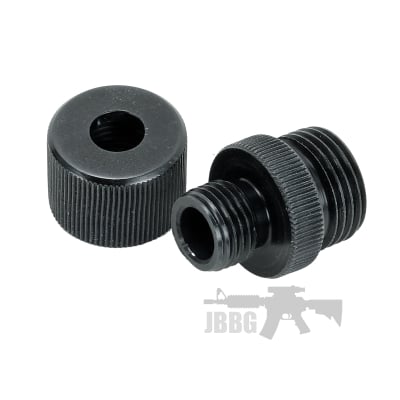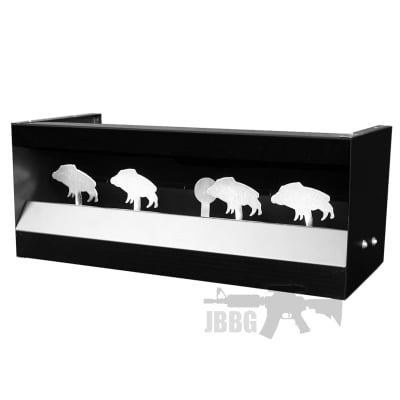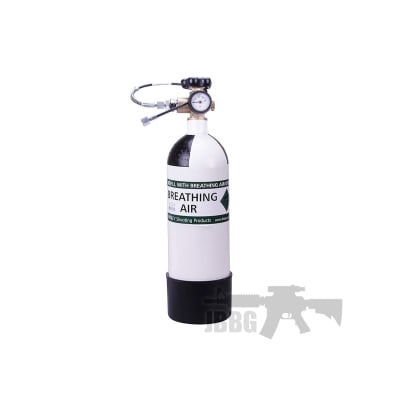 Description
Additional information
PRODUCT RESTRICTION
DELIVERY INFO
HOW TO BUY AN AIRGUN ONLINE
Reviews (0)
FAQs
Description







KUZEY K900 AIR RIFLE .177
This is an outstanding airgun that has a nice fill due to its quality dark Turkish Walnut stock – more info soon…
THE COOL STUFF
Caliber is .177 / 4.5 mm
The barrel length is 530 mm
Tube air volume is 200 bar / 500 cc
The receiver is glossy black aluminium
The total length is 1060 mm
Trigger distance is 360 mm
The Stock is a quality dark Turkish Walnut
The average weight is 3.90 kg
Magazine capacity for this .177/4.5 is 14 pellets
Screw cut; 1/2″ unf
Shot count at 177 bar is 280
IN THE BOX
Kuzey K900 PCP air rifle dark Walnut Stock .177
2x Rotary Magazine
Fill Probe
Tools
English Manual
Hard Case (new design with end handle wheels)
SPECIFICATIONS 
| | |
| --- | --- |
| GUN TYPE | AIR RIFLE |
| ACTION | PCP |
| CALIBRE | .177 PELLET |
| ROUNDS | 14 SHOT MAG |
| MAGAZINE TYPE | ROTARY X2 |
| COCKING SYSTEM | SIDE LEVER |
| BARREL LENGTH | 530 MM |
| LENGTH | 1060 MM / 41.7 INCH |
| WEIGHT | 3.90 KG |
| STOCK | DARK TURKISH WALNUT |
| ACCESSORY RAILS | 11MM PICA-TINNY RAIL TOP |
| SAFETY | MANUAL ON TRIGGER |
| AIR TUBE VOLUME | 200 BAR / 500 CC |
| SHOT COUNT | 200 BAR; .177 = 280 |
| PRESSURE GAUGE | YES |
| WITH SCOPE | NO |
| WITH CASE | YES |
Additional information
| | |
| --- | --- |
| power-type | PCP |
| calibre | .177 |
| material | Walnut |
PRODUCT RESTRICTION

If you are 18 or over, you can purchase an Air Pistol or Air Rifle (Airgun).
If you are between the ages of 14 to 18, you may use an Air Pistol or Air Rifle without supervision, following the set guidelines.
Slingshots, Crossbows, and Archery Sets cannot be sold or used by anyone under 18 years of age. 
Only adults 18 or over may purchase blank firing pistols and/or blank ammo.
PLEASE NOTE; All adult (18+) restricted products such as Air Rifles, Air Guns, Crossbows, and Blank Firing Pistols will require a Photo ID to be uploaded before the order can be completed.
DELIVERY INFO
Understanding our delivery service as it is important to select the correct one for you.
ACCESSORIES DELIVERY £6.00
Products that are NOT rifles/pistols, sent via a courier service
BUY AND COLLECT £0.00
Pick up by you from our London shop
RFD DELIVERY £20.00
We send the rifle/pistol to your local gun shop for you to collect
AIR GUN DELIVERY from £20.00
This is our own service, delivering air rifles, air pistols and blank firing pistols to your door
For more information about delivery costs please see our delivery page here…
If you have an air rifle or pistol in this order you will need to supply your photo ID for us to process your order ready for delivery. If you have shooting accessories including ammo, blank firing guns or archery products you do not need to supply an ID. If you need help with uploading your ID please contact our support team.
If you have selected RFD delivery to a gun store near you, they will charge you a small admin fee that is not under the control of Just Air Guns. We recommend that you contact your local gun store to find out how much this will be before ordering RFD delivery from Just Air Guns.
HOW TO BUY AN AIRGUN ONLINE
THE FOLLOWING IS REQUIRED FOR AIRGUN SALES
PHOTO ID – After purchasing an air rifle or pistol from us we will need your Photo ID. If you are buying online, we will need you to upload it to our ID portal at id-justairguns.co.uk
YOUR PERSONAL INFORMATION – We will keep a record of your personal information on record and only supply it to the authorities on request.
AGE RESTRICTION – Airguns can only be sold to adults aged 18 years or over.
SHOP PURCHASING – If you are purchasing an air rifle or air pistol in our shop, you can not pay with cash. Credit or debit cards only!
PRODUCT INFORMATION – We will keep a record of the product and its serial number and only supply it to the authorities on request.
DELIVERY – If ordering online, we will personally deliver your airgun. Please see the delivery requirements below!
If you have purchased an airgun online for delivery, please take a look at these delivery requirements. We can only deliver once you have uploaded your photo ID to our secure online portal. We will contact you to arrange the best day and time for delivery. We can only deliver to the address given on the order and the photo ID. The buyer, i.e. the person on the photo ID, is the only person that can take delivery, so they must be in at the time of delivery. Please note that we can not leave it with anyone else, including a member of your family! We will also need to see the same photo ID at the delivery address at the time of delivery, or we can not leave the items.
Working with the following agencies to protect our sport…

If you have any questions regarding the information on this page, please contact us via the contact information on this website.
FAQs
PCP air rifles use built-in air tanks to store compressed air. This compressed air is then used as the propellant to fire the pellet downrange.
The air is compressed by using a hand pump, a divers scuba tank, or a carbon fiber tank (like the ones used in paint guns). When the air guns tank is filled to the correct pressure, it is ready to fire.
How Many Shots Does A PCP Air Rifle Have Per Fill?
This is dependent on the make and model, the ammo size and weight, and the length of the barrel. It also depends a lot on the FPS - FT/LBS your rifle is shooting and if it is regulated. However, a good average is 100 shots per 100CC; also, please take into consideration not all of the shots will be good - when the tank is about three-quarters empty, your shots will reduce in power and quality. So if you have a 425CC tank, we would hope to see 300 good shots depending on many different factors. Disclaimer, this is just a rough guide and should not be taken as technical advice. Please see the manufacturer's website or the specification table on the Just Air Guns product page if the manufacturer has published this information.