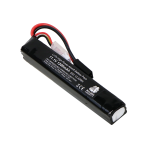 Bulldog Li-Po 1200mAh 11.1V 20C 13.32Wh High Power Battery Block
£19.99
Bulldog 1200mAh 11.1V 20C 13.32Wh 20C Battery Block.
EMAIL ME WHEN STOCK IS AVAILABLE
Description
PRODUCT RESTRICTION
DELIVERY INFO
Reviews (0)
Description
Bulldog 1200mAh 11.1V Li-Po Battery, Li-Po batteries (short for Lithium Polymer) are a type of rechargeable battery that has taken the electric gun world by storm. When compared to their old NiCd/NiHm counterparts, Li-Po batteries have three main things going for them that make them the perfect battery choice.
Li-Po batteries are light and small
Li-Po batteries have large capacities, meaning they hold lots of power in a small package
Li-Po batteries have high discharge rates to power the most demanding electrics
Please confirm that your gun is Li-Po ready or you could damage your gun's electrics.
Only charge with a Li-Po charger and where possible ensure that the management lead is used.
This will balance each cell preventing a fire hazard.
WARNING
Use special caution when working with Lipo battery packs, they are very sensitive to charging characteristics and may explode if mishandled.
Make sure you have enough knowledge on Lipo rechargeable batteries in charging, discharging and assembly before use.
Put the batteries in a fire-proof environment when charging.
We recommend that you only charge when the battery is in a fireproof Lipo bag.
Never leave batteries unattended when charging.
Do not put batteries on the car seat, wood surface or carpet when charging.
We are not responsible for any damage caused by misusing or mishandling, not for any damage caused by other Lipo batteries.
Do not make any changes to the charger, charger accessories or connectors, as this might cause an electrical shortage, fire or over-heating during charging.
Before purchasing a battery or charger please read our important warning and disclaimer here.
PRODUCT RESTRICTION

If you are 18 or over, you can purchase an Air Pistol or Air Rifle (Airgun).
If you are between the ages of 14 to 18, you may use an Air Pistol or Air Rifle without supervision, following the set guidelines.
Slingshots, Crossbows, and Archery Sets cannot be sold or used by anyone under 18 years of age. 
Only adults 18 or over may purchase blank firing pistols and/or blank ammo.
PLEASE NOTE; All adult (18+) restricted products such as Air Rifles, Air Guns, Crossbows, and Blank Firing Pistols will require a Photo ID to be uploaded before the order can be completed.
DELIVERY INFO
Understanding our delivery service as it is important to select the correct one for you.
ACCESSORIES DELIVERY £6.00
Products that are NOT rifles/pistols, sent via a courier service
BUY AND COLLECT £0.00
Pick up by you from our London shop
RFD DELIVERY £20.00
We send the rifle/pistol to your local gun shop for you to collect
AIR GUN DELIVERY from £20.00
This is our own service, delivering air rifles, air pistols and blank firing pistols to your door
For more information about delivery costs please see our delivery page here…
If you have an air rifle or pistol in this order you will need to supply your photo ID for us to process your order ready for delivery. If you have shooting accessories including ammo, blank firing guns or archery products you do not need to supply an ID. If you need help with uploading your ID please contact our support team.
If you have selected RFD delivery to a gun store near you, they will charge you a small admin fee that is not under the control of Just Air Guns. We recommend that you contact your local gun store to find out how much this will be before ordering RFD delivery from Just Air Guns.