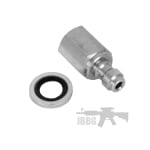 BEST Fittings Quick Coupler Plug 02B3-ML01
£7.99
Best Fittings Quick Coupler Plug.
Brand: BEST FITTINGS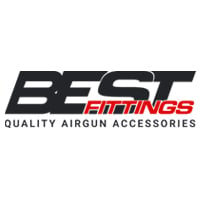 Description
DELIVERY INFO
Reviews (0)
Description
BEST Fittings Quick Coupler Plugs QC03 will also connect directly to the snap coupler supplied with many popular rifles such as Daystate, Crosman, Benjamin etc. So if you already have one of those, then simply fit one of our Quick Coupler Plugs to each of your other fill probes to enjoy swift interchange of fill connectors.
Please note that BEST Fittings standard quick coupler male components are not compatible with the all stainless steel Brocock Enigma & AimX Original Fitment connector. We do however offer a suitable component for that product, 02B3-ML04 Brocock Compatible Quick Coupler Plug.
Examples of compatible fill probes, adaptors and guns below:
Air Arms: s200, s300, s310, s400, s410, s510, TDR, FTP900, EV2, Protarget, MPR, Shamal, XM100, NJR100, TM100 etc.
Armex: X10 etc.
BSA: Superten, Hornet, Ultra, Scorpion (T-10 and SE models also) R10, Lonestar etc.
Benjamin: Marauder, Challenger, Discovery, Silhouette etc.
Brocock: Enigma, Elite, Grand Prix, Aim X, Hunter, Contour, Concept etc
Career/Samyang/Sumatra: 707 909 2500 etc
Daystate: Air Wolf/Air Ranger, Huntsman, Harrier, X2, Wolverine, LR90, PH6, MK3, MK4 etc
Evanix: Blizzard, AR6, S10, Conquest etc
Falcon: Prairie & FN silencer quick fill (FN8 FN12 FN19) etc
FX: Axsor, 2000, Tarantula, Gemini, Cyclone, Gladiator, Verminator, Typhoon, Monsoon, T12, Cutlas, Ranchero, Super Swift, Storm, Rapier, Timber Wolf, Bobcat, Ultimate, Elite, Revolution, Royal etc
Gamo: Dynamax etc
Hatsan: AT-44, AT4,4 AT65, Galatian etc
Logun: Axsor, Gemini, Solo, MK1, MK2 Professional, Eagle, S16 etc
Edgar: XVi
Prestige: Cub, Kub, Blackcat etc
Ripley: XL9, AR5 etc
RWS: Rapier, Elite, Scimitar, Excalibre, Series 50, 500, LR20, LR25 etc
Theoben: Rapid 7, R7, MK1, MK2, MKII, MFR etc
Webley: FX2000, Axsor, Raider, Raider 10, Spectre, Venom, Viper, Sidewinder, Mamba etc
Weihrauch: HW100, HW101 etc
Understanding our delivery service as it is important to select the correct one for you.
ACCESSORIES DELIVERY £6.00
Products that are NOT rifles/pistols, sent via a courier service.
BUY AND COLLECT £0.00
Pick up by you from our London shop.
RFD DELIVERY £20.00
We send the rifle/pistol to your local gun shop for you to collect.
AIR GUN DELIVERY from £20.00
This is our own service, delivering air rifles and air pistols to your door
For more information about delivery costs please see our delivery page.
If you have an air rifle or pistol in this order you will need to supply your photo ID for us to process your order ready for delivery. If you have shooting accessories including ammo or archery products you do not need to supply an ID. If you need help with uploading your ID please contact our support team.
If you have selected RFD delivery to a gun store near you, they will charge you a small admin fee that is not under the control of Just Air Guns. We recommend that you contact your local gun store to find out how much this will be before ordering RFD delivery from Just Air Guns.