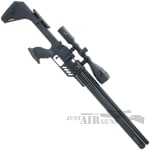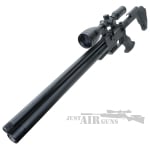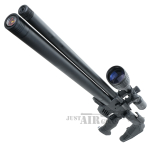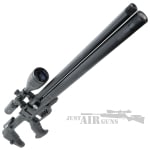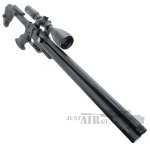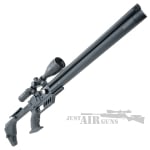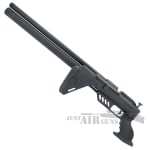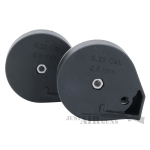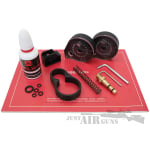 Aselkon Emperador LS1 Tactical PCP Air Rifle with Black Stock .177
£649.99
This is the Aselkon Emperador LS1 Tactical PCP Air Rifle with black metal stock in a .177 calibre format.
Please note that the scope and mounts are sold separately. Please see recommended Hawke Optics listed on this website.
Brand: ASELKON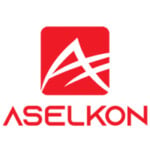 EMAIL ME WHEN STOCK IS AVAILABLE
Description
Additional information
DELIVERY INFO
Reviews (0)
FAQs
Description







ASELKON EMPERADOR LS3 PCP AIR RIFLE
This is the Emperador LS1 (LS I) from Aselkon. It offers the shooter a very high-precision PCP rifle with the latest innovations in convenience. This air rifle has an easy-access pressure regulator with a 5-step selector to improve your shooting performance and shot count per fill. It also has a larger magazine than any other PCP on the market, plus two magazines included with this gun. This PCP should not be overlooked based on the low price – it performs better than most other PCP rifles available and offers more options for the shooter. This Pro LS1 is a versatile tactical carbine with a light, resistant polymer shell and an adjustable folding stock. The pistol grip and slide under the tank make the LS1 ideal for those who love tactical shooting and the use of accessories such as flashlights or lasers.
FETURES
Folding Tactical Stock
Easy Power Adjust
Large Magazine Capacity
Threaded Barrel
Adjustable Trigger
Adjustable Cheek Rest
Adjustable Recoil Pad
Smooth Side Lever
260 cc Tube Volume
Rifled Barrel
Fixed or Floating Barrel
Standerd Fill Probe
With 2 Magazines
With Hard Case
MORE INFO
High precision accuracy
The tube can be replaceable without pressure loss
Improved new generation regulator enables easy and consistent setting
The power setting lever increases the range efficiency in use
Larger magazine capacity
Reinforced polymer stock with ergonomic rubber grip
Foldable Tactical Stock, adjustable cheek riser and recoil pad
SPECIFICATIONS
| | |
| --- | --- |
| GUN TYPE | AIR GUN |
| PLATFORM | TACTICAL RIFLE |
| MODEL | EMPERADOR LS1 |
| SKU | EMPERADOR/SL1/W-177 |
| FORMAT | PCP AIR RIFLE |
| MAKE | ASELKON |
| BRAND | ASELKON |
| CALIBRE | .177 (4.5MM) |
| AMMO | PELLET |
| ROUNDS | 22 |
| TUBE VOLUME | 260 CC |
| FILLING PRESSURE | 200 BAR |
| NUMBER OF SHOTS | 90 |
| BARREL TYPE | RIFFLED |
| SILANCER | YES |
| TWIST RATE | 1:15 |
| WITH CASE | YES |
| POWER TYPE | PCP |
| CONSTRUCTION | METAL/WOOD |
| SAFETY | YES |
| RAIL SYSTEM | YES 12MM |
| STOCK | TACTICAL FOLDING |
| BUTTPLATE | AJUSTABLE |
| THREDED BARREL | YES |
| RECOIL PAD | AJUSTABLE |
| BARREL LENGTH | 580 MM |
| LENGTH | 1020 MM |
| WEIGHT | 3520 GR |
FEATURES

Tactical folding stock with adjustable cheek rest and adjustable recoil pad. The folding stock has a metal locking screw that needs no tools.

A clear dial on the side shows the pressure at which the rifle's regulator is set, and a large mag well for easy mag installation.

Silky smooth full metal side cocking lever, providing easy access for fast, time-saving reloading.

Easy-access pressure regulator with a 5-step selector to greater improve shooting performance and shot count per fill.

Full metal receiver with a large picatinny rail for a bipod or other accessories.

Standard probe fitting that is covered with a metal removable cover. Easy fill system that offers a clear and simple approach.

High-quality gauge fitted to the end of the main tank showing the pressure within the tank.

Full metal barrel with muffler technology built-in, however, it also has a threaded barrel of other accessories.

Complete with a high-quality hard gun case that is lockable with a separate padlock not included.
IN THE BOX
Aselkon Emperador LS1 PCP Air Rifle
2 Rottery Magazines (Large)
Single Shot Magazine
Fill Probe
Spring (Spear)
Barrel Bracket (Optional)
O-Rings (Spear)
Allen Key Wrenches
Gun Silicon Oil
Instructional Manual
Quality Hard Case
This rifle is designed to deliver less than 12-foot pounds of power to stay within UK law. However, FPS depends on the pellet weight and quality, i.e. brand used. Each rifle will perform differently, so we recommend trying different brands of pellets to see what works best in your new air rifle. More info can be found on our Blog or in our FAQ section of this website.


12mm Dovetail Scope Rail

Rifled Barrel with Muffler Technology

Tactical Stock, Ajustable Cheek + Butt
Folding Ajustable Tactical Stock

Smooth Metal Side Lever

Large Magazine Well
High-Quality Regulator Gauge

200 CC Tank with Pressure Gauge

Fully Ajustable Metal Trigger


Additional information
| | |
| --- | --- |
| power-type | PCP |
| calibre | .177 |
| material | Walnut |
Understanding our delivery service as it is important to select the correct one for you.
ACCESSORIES DELIVERY £6.00
Products that are NOT rifles/pistols, sent via a courier service.
BUY AND COLLECT £0.00
Pick up by you from our London shop.
RFD DELIVERY £20.00
We send the rifle/pistol to your local gun shop for you to collect.
AIR GUN DELIVERY from £20.00
This is our own service, delivering air rifles and air pistols to your door
For more information about delivery costs please see our delivery page.
If you have an air rifle or pistol in this order you will need to supply your photo ID for us to process your order ready for delivery. If you have shooting accessories including ammo or archery products you do not need to supply an ID. If you need help with uploading your ID please contact our support team.
If you have selected RFD delivery to a gun store near you, they will charge you a small admin fee that is not under the control of Just Air Guns. We recommend that you contact your local gun store to find out how much this will be before ordering RFD delivery from Just Air Guns.
FAQs
PCP air rifles use built-in air tanks to store compressed air. This compressed air is then used as the propellant to fire the pellet downrange.
The air is compressed by using a hand pump, a divers scuba tank, or a carbon fiber tank (like the ones used in paint guns). When the air guns tank is filled to the correct pressure, it is ready to fire.
How Many Shots Does A PCP Air Rifle Have Per Fill?
This is dependent on the make and model, the ammo size and weight, and the length of the barrel. It also depends a lot on the FPS - FT/LBS your rifle is shooting and if it is regulated. However, a good average is 100 shots per 100CC; also, please take into consideration not all of the shots will be good - when the tank is about three-quarters empty, your shots will reduce in power and quality. So if you have a 425CC tank, we would hope to see 300 good shots depending on many different factors. Disclaimer, this is just a rough guide and should not be taken as technical advice. Please see the manufacturer's website or the specification table on the Just Air Guns product page if the manufacturer has published this information.